Do you know what an ossicone is? No? I didn't either but Makenzie does.
It all started when Makenzie was about 9 1/2 months old. You see she has the
Melissa & Doug giraffe
in her room which she has always loved. When she was about 9 1/2 months old she started saying, "wassat" (what's that) to pretty much everything she saw. Every morning she wakes up and wants to say hello to the giraffe. Before she could say eye, ear, nose, etc. She would point to a body part on the giraffe and say, "wassat" and I would name the part she was pointing to. Then one day she started pointing to the horns on the giraffe. I didn't know what they were called but I figured I better find out what they're called so I could answer her question. I headed over to the trusty internet and googled, "What are the horns on the giraffe called?" Answer: ossicones. It was at that moment that I knew that Makenzie was going to challenge me, she was going to be a curious soul and I was going to need to find ways to challenge her curious mind.
In comes Tot School. Tot School is a name that I heard used by my new favorite blogger Carisa of
1+1+1=1
. Essentially it is just play with purpose. Providing activities for your child that will allow him/her to concentrate, explore and learn all while playing in an organized environment, or at least that's what it means for me.
It's going to take a little bit of time to get things running the way that they should (how I want them to) but I'm starting to incorporate some activities in our day and so far it's going great!
First off, we started with putting Q-tips in a honey bear (yes, she is in Christmas jammies, in June heh)
I handed her about 20 Q-tips which I placed in a square container and then handed her the bear. I modeled once how to use it and then let her try her hand at it. She took a little time to put the first one in but she did really well. Then she grabbed a large handful and tried to put them all in and realized she wasn't able to do that, she then tried putting 3 in at a time and eventually realized she was going to have to put them in one at a time. After she was done she came up to me and asked for more. It was so fun to watch her explore what she was doing and how she was going to do it.
Another activity that we did was transferring "balls" to ice cube trays. This works on one-to-one correspondence which is the basis for counting. I didn't take a picture of Makenzie doing this activity for some reason but I did get the end result.
I gave her 12 "balls" that I bought from CM school supply for 15 cents each. I put the balls in a small plastic container, handed her the ice cube tray and asked her to put the balls in. She tried to stack them but quickly learned that only one ball fit in each cube resulting in one-to-one correspondence.
Another activity that she loves is playing with my bracelets. I put them in an old small purse that I have. She carries the purse around, finds the perfect spot to sit down, takes out each bracelet, tries it on, examines it, then eventually lines them all up. Again, I need to be better about taking pictures. She is so quiet and focused during this time of play. Regardless of whether I can exactly pinpoint the skill that is being learned, she is learning to focus and concentrate and I can almost see her little brain making connections. I just absolutely love it. I'm really looking forward to getting more organized and getting more activities set up.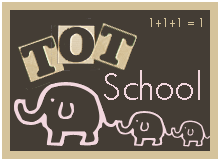 I'm going to be joining Carisa's
Tot School posts
by creating a weekly post of what we're doing and how I'm setting up our Tot School and then linking it up to her posts. If this sounds at all interesting to you I highly suggest that you check our her blog. I think that you will seriously enjoy all of her great ideas and the resources on how to set up Tot School and what it's all about. She has 3 children of various ages so you can get ideas for all ages. I went back and looked at older posts to get ideas for Makenzie's age. I hope you enjoy!