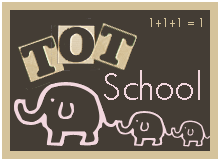 This week was a much better week for our Tot School. I still have a lot of work to get us to where I'd like us to be but Makenzie is learning and having fun and that's what really counts!
It was a hot week here, so we spent a few days playing with the water table and one day out at the pool. Makenzie always loves her water table, but this week I noticed her really paying attention to cause and effect and trying out various things. She intently watched the ball twist around the tube after she dropped it in...
and then tried to put a large piece in the ball tube, but obviously it didn't work...
of course, no activity is complete without a taste...
Makenzie also painted for her first time. She is currently at a phase where anything that is out of place is "a meh" (a mess). She was fine with the yellow paint but when I gave her the blue paint and she started to use it on the paper, she kept saying, "a meh, a meh." Needless to say we didn't paint for very long.
One thing I did realize was that Makenzie had more fun painting the paper plate that I used to hold the paint.
I think next time I'll either put splats of paint on paper and let her paint that way, or just let her paint a paper plate.
My big undertaking this week was a modified sensory bin. I used Pasta Barilla's stelline pasta (which are just very tiny star shaped pastas), put it in a ziploc container and hid wooden ladybugs in the pasta. I offered Makenzie a few scoopers (which are really measuring spoons that I got at the 99 cent store), a funnel and a pouring cup. With the exception of the scoopers, I had all of these things at home already. Makenzie LOVED this activity and spent probably a good 20 minutes playing with it, which is saying A LOT for a 15 1/2 month old.
It was so much fun to watch her explore and see all of the things she came up with.
One thing I do want to emphasize is that this is all about exploration. You may have an idea for how the activity should go but the point is to let your child explore the activity. Refrain from offering them activities where you will have to interrupt them or redirect them. I did have to tell Makenzie to take the ladybugs out of her mouth a few times so she didn't choke but other than that it was free play. Here's the aftermath of it all...
I highly suggest that you buy an inexpensive tablecloth for all of the activities. The one I have is one of those kinda plasticy ones with the fabric on the bottom. I use it on the table and on the floor and LOVE it! It's so versatile and easy to clean up.
Makenzie also enjoyed a new iPad app that was recommended by Carisa at
1+1+1=1
. It's called "
Colored Dots
." It's free and so great for the little ones. At first glance it seemed super easy but Makenzie struggled with it some at first. It's definitely her go-to game now though.
And finally Makenzie and Daddy spent a few evenings working with building blocks. I love to watch her little face as she concentrates.
I'm still getting the hang of Tot School and posting about it, so thanks for sticking with me. I realize that this post was a little photo heavy so I'll try to post a little less photos next week.