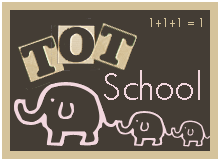 As I mentioned a couple weeks ago, I am starting to get things set up for Tot School and will be linking up to
1+1+1=1
. I'm still working on getting a schedule going and figuring out how to make this work the best for us. You will notice that Makenzie is in her jammies in all of the pictures this week. I tend to introduce new activities early in the morning when she is still in jammies. I promise this will not always be the case. You'll also notice that the pictures are mostly from iPhone and I also promise that my pictures won't always be from the phone.
So what'd we do this week?
A few weeks ago I found a CM School Supply gift card that I still had from my "teaching days." It had $33 on it so Makenzie and I took a trip there. One of the things I bought was this
Melissa & Doug Jumbo Knob Wooden Farm Puzzle
. Initially Makenzie liked the animals and would say their sounds but didn't know how to use it. Dirk's been working with her and this week she finally got the hang of it and really had fun with it. She matched all of the animals correctly and got four of them in the puzzle correctly.
The teacher in me wants to be completely uninvolved and let her do what she can how she can but the poor girl has a bit of my perfectionism and MUST have each animal in the spot properly.
Then there was time for child labor. Heh. My girl loves to copy whatever I'm doing and so I've been teaching her to dust. The second she sees the duster anywhere she sings, "dut, dut, dut" which is what I always tell her when she dusts and wants it. I believe that part of Tot School is teaching children life skills so here she is.
To work on fine motor skills I gave Makenzie some dry spaghetti and a parmesan cheese shaker (from the dollar store). I showed Makenzie that the spaghetti fits in the whole. She did not like that it was sticking out of the container when I showed her so she broke them off into tiny pieces and then put them in the jar. I love to see what she does with what she is given.
While I was cleaning out the refrigerator I had Makenzie take out the condiments on the bottom shelf and put them back. This kept her occupied for awhile. It's so cute to see her demeanor change when I give her a task. She becomes so serious and engrossed in her activity.
So I know that this week's post was a little weak but it's a start and I promise many more exciting things!