Makenzie is currently 18 months old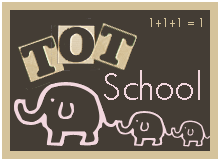 I know it's been a few weeks. We have been SO busy and just haven't had much time to do organized Tot School activities. We had some close friends come stay with us for a few days which was SO much fun, then we had Dirk's 10 year high school reunion, and dinners with the faculty for Dirk's new job and now we're getting ready for my cousin's wedding, which both Makenzie and I are in. So much fun, but SO busy!!!
We've still been working on colors. One thing I have noticed is that focusing on one color, causes Makenzie to say that everything is that one color, so instead of focusing on one color I've just been exposing her to lots of colorful activities where we can talk about which color is which.
One of her favorite things to do now is to point out colors. At the front and back of
Panda Bear, Panda Bear, What Do You See?
there are stripes of painted colors and Makenzie loves to sit in the rocking chair and name each color on the front pages. She does really well, except that she gets brown and red confused.
We've also been reading
Brown Bear, Brown Bear, What Do You See
. This is one of the books that I had put away for awhile because it has been Makenzie's absolute favorite book since she was like 5 months old. If she was ever crying I could read that to her and it would calm her right down but because she loves it SO much, she would only ask for that book and showed no interest in any other books. When I got it back out she was SO excited and we have been reading it...A LOT!
We also started doing an art project with the characters from
Brown Bear, Brown Bear, What Do You See
.
I traced the brown bear from the book (we have the board book so the image is smaller than the actual book), then I copied over it with black marker. She finger painted it with chocolate pudding.
And of course ate some.
We also have been doing a lot of coloring. Makenzie has been coloring for quite awhile now but she's really starting to love it and asks to do it just about every day. It's so fun to see the progression of her drawing. Watching her go from loosely holding a crayon around 12 months to making random scribbles, to now writing with purpose.
As a teacher, it's so much fun to watch the progression. This is stuff I know in my head but to see it progress is quite fascinating. And look at that amazing "pencil grip!" Writing is obviously innate for her because I never taught her how to properly hold her crayons or pencils and she's pretty darn close to having a perfect grip.
On the iPad, Makenzie has been playing with the
Flashcards by Parents Magazine.
The quiz part is great as it shows four colors and asks you to find a specific color. Makenzie does pretty well at it.
Next week should be a more calm week so hopefully I'll have more to share! Thanks for staying tuned through our little hiatus.
Also, don't forget to check out
1+1+1=1
for some more awesome Tot School ideas!!!