Makenzie is currently 18.5 months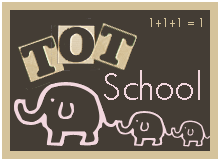 Here's what we've been up to in my absence:
We've read lots of books. Makenzie is becoming increasingly interested in "reading" them on her own and says that parts that she knows by heart.
We played outside with water balloons. First, "free play."
and then target practice
We also made a "purple cat" from Brown Bear, Brown Bear What Do You See? It started off great!

But when the glue got sticky and the tissue paper started sticking to her hands, it was time for a meltdown.
She's getting so much better with her hands being dirty but this was asking too much.
I also bought the Melissa & Doug Abby & Emma Deluxe Magnetic Dress-Up. I've had my eye on it for a long time but finally bought it the other day.
I gave Makenzie a cookie sheet to use as a magnetic board. She spent quite a while playing with the dolls. It seemed like her favorite part was putting the tiny shoes on the board.
It was a bad day to introduce the set though because she's getting her darn canines and is putting everything in her mouth like she did when she was a baby.
So these were our "organized" activities the past few weeks. I am really going to try to get back to blogging and Tot School. I have some activities and recipes that I'm dying to share! Also don't forget to check out
1+1+1=1
for more great Tot School Ideas!