Makenzie is currently 19 months old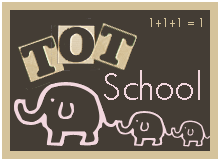 Okay, so I know it's "Tot School Tuesday" and today is Wednesday but I'm slowly getting back on track.
This week we didn't have a theme, although Makenzie really started focusing on opposites herself. She's been comparing things with light/dark, clean/dirty and her current favorite old/new. I'm going to play off of this next week and re-emphasize her interest in opposites with some fun activities.
Back in August I saw a post on
Meet the Dubiens
about chalk painting, it looked easy and fun so I pinned it on my
Tot School board
for a later date. We tried it this week and it was just as easy and just as fun as I had hoped it would be!
All you need to do to make your own sidewalk chalk is to mix 1/4 cup cornstarch with 1/4 cup water and add some drops of food coloring, so easy, so cheap and so fun!
I love how activities often work on so much more than what you're planning for. The painting worked on fine motor skills but Makenzie also kept squatting and getting up using only her legs which helped her practice her gross motor skills and balancing.
This weekend, Makenzie "helped" Dirk and I clean our patio up, which resulted in fun water play with Daddy.
One of my absolute favorite things to do is to watch Makenzie "draw." She is now telling us what she is drawing, usually it's Elmo or an airplane. I know I've said it before but, her pencil grip is amazing! I've never taught her anything about how to hold a pen so it's totally innate for her. As a teacher, and a person who loves to write, it makes my heart happy to see her so interested in purposeful drawing. It is also interesting to watch her "writing skills" develop. She usually prefers a pen over any other writing tool. We caught her drawing like this the other day and Dirk and I both about died. Cutest thing ever!
Another activity I had pinned on Pinterest was Gak. Do you remember playing with that stuff when you were a kid? It is seriously the easiest thing to make and Makenzie loved playing with it! I got the idea from the
Make It and Love It
blog, which is a seriously fun blog that I just came across. She has tons of great sewing projects and other fun things to check out.
Anyway, rather than following the recipe that she posted a link to, I just put into a large bowl 1 bottle of glue, and food coloring, mixed it with a spoon and then added liquid starch to it little by little, kneading the gak each time before adding more starch. Once it was smooth and rubbery, it was time to play. Makenzie loved this stuff! (the pictures aren't very good, but you'll get the idea). The liquid starch was $2.98 at Wal-Mart and the bottle of glue was $.74 so it's a super cheap activity and the starch will last you a really long time!
So, I guess that sums up our Tot School for this week. I'm linking up to
1+1+1=1
. Don't forget to check out the other Tot School links for great ideas!